Education
Articles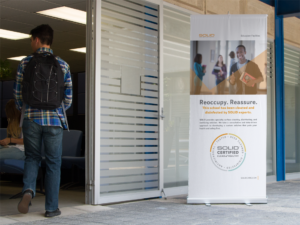 School is back in session, bringing with it unprecedented challenges. Education leaders across the country must focus on ways to deep clean for health to keep students and staff healthy.
While most judge their surroundings by sight and smell, how clean and safe it is – it goes much deeper when you enter a building. There are four key components all facility managers, cleaning professionals, and industry leaders should embrace: transparency, accountability, visibility, and partnerships, as defined by Brant Insero, senior director of education, training, certification, and standards with ISSA in a recent episode of ISSA Straight Talk!
Unfortunately, the new reality is that these increased clean for health measures take a toll on existing janitorial teams and budgets. Even though you may think your staff can handle it, your own people probably don't have the training and qualification to ensure a clean and healthy campus.
You Are Not Alone
SOLID is here to help! We are resourced and ready with self-performing teams nationwide. We provide the right services right when you need them. Our clean for health program leverages proven methods, scientific evidence, training, certification, and the latest technology. As a result, your campus will not only LOOK clean, but it will BE clean and healthy.
5 Ways SOLID Meets the Challenge
Here are five reasons to choose an agile, experienced partner like SOLID.
We're EXPERT. Our technicians are trained and certified in the latest technology and methods. We achieve a higher level of cleanliness, above and beyond the regular daily cleaning performed by your janitorial staff.
We're EFFECTIVE. We use professional-grade equipment like electrostatic spraying and HEPA vacuums, proprietary cleaning processes, and EPA-approved chemicals to create a hygienically clean environment.
We're PROACTIVE. We do the job right. With our process, our operation leaders check in, adjust where necessary, and implement the clean for health program that's right for your campus.
We're TIMELY. We work around your school's schedule. Evenings, weekends, school vacation times: SOLID is resourced and ready with local, self-performing experts when it's convenient for you.
We save you MONEY. Hiring an outside surface care team provides cost savings in payroll and benefits. And SOLID is a

MISBO Consortium Partner.

 We offer additional savings for MISBO member schools.
---
We Know Student Health Is Your Top Priority
You can trust SOLID to clean for health. We know that a clean and healthy environment plays a crucial role in students' education. Restore confidence and reassure students, parents, and staff that your school is prepared: it is deep cleaned and disinfected by SOLID.
Contact us today for a free site assessment for your educational facility.