Healthcare
Articles
For a Healthcare Facility That Patients, Visitors and Staff Can Trust
Medical and healthcare facilities not only need to look clean, but they also need to be clean and healthy. Your healthcare facility can elevate cleanliness standards to the next level to meet new health and safety challenges with SOLID Surface Care.
Healthcare settings require best-in-class deep cleaning, maintenance, and restoration service to ensure a clean, healthy, and visually appealing environment for patients, visitors and staff. SOLID can help! We have more than three decades of experience meeting and exceeding the high expectations and needs of healthcare facilities across the nation.

Four Solutions to Healthcare Management and Maintenance Issues
Here are four ways SOLID's expert technicians can simplify complex maintenance tasks for your healthcare facility.
#1 Break the Chain of Infection
Healthcare centers are busy places, with much foot traffic and many high-touch surfaces that quickly spread germs. Our technicians are trained and certified to prevent the spread of germs and reduce the risk of healthcare-associated infections using EPA-approved chemistries and methodologies. And we can provide antimicrobial treatments and abatement services when necessary.
#2 Proactive, Safe Floor Care Maintenance
Healthcare facility managers must provide safe environments while controlling maintenance costs. SOLID's deep cleaning and floor care maintenance methods leave floors dry and safe, preventing slips, trips, and falls. In addition, our techniques reduce maintenance frequency. For example, we offer high-performance coatings that eliminate the need to continually strip and wax resilient floors while saving EVS staff time and lowering maintenance costs.
Scheduled floor maintenance can be performed as infrequently as every year or as often as multiple times a year. SOLID will create and execute customized programs on your schedule that won't disrupt your busy healthcare facility's routines.
#3 Supplement your EVS Staff
Short-staffed? SOLID has self-performing service technicians across the nation that can quickly and easily supplement your environmental services staff. We currently have 40+ office locations with a team of 500+ surface care experts. We care for over 700 million square feet of commercial flooring annually across all 50 states and Puerto Rico – and we are growing!
#4 Increase Occupant Satisfaction
Clean and healthy surroundings reassure patients, visitors, and employees. A good patient experience is crucial to achieving and maintaining higher HCAHPS scores. Our specialized surface care solutions ensure your healthcare facility meets the highest levels of cleanliness. Plus, we can work with your facility to provide antimicrobial coatings to reduce nosocomial infections.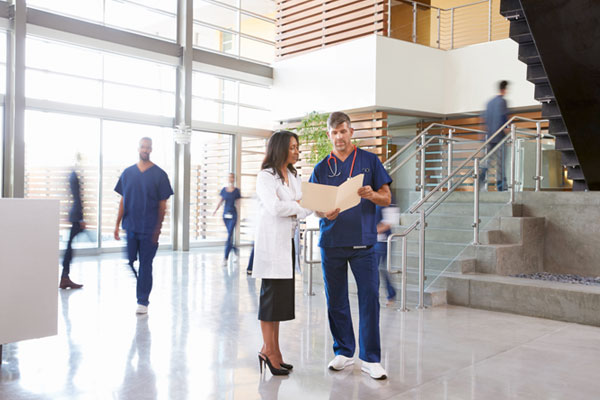 Learn more about how SOLID can help your healthcare facility create a clean and healthy environment here.
Ready for a free, on-site assessment for your healthcare facility? Contact us today.